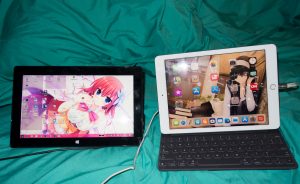 Back in 2010, I bought the first iPad when it first released. While it can't really replace a laptop computer,  it was good for web browsing, writing short documents, reading eBooks and PDFs, and gaming. Also, these new tablets last longer since they used ARM processors opposed to Intel or AMD processors found in laptops. Furthermore, they were optimized for touch compared to desktop operating systems. This gives a better experience compared to trying to touch traditional user interface elements found on Windows or Mac OS X.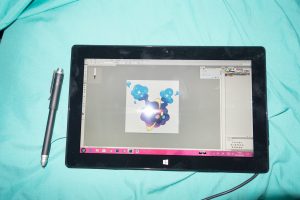 Sadly, the original iPad had a very short life span as it only received two updates. In 2013, I wanted something to replace the Livescribe pen which I used to record lectures while taking notes. In 2013, Microsoft eventually released the successor of the Surface Pro, the Surface Pro 2. It uses Haswell Intel mobile processors and Wacom Pen technology. Unlike the iPad, it can also run full desktop applications such as Microsoft Office and Photoshop. It's a match made in heaven costing around $899, right? Not so fast.
Sure, Microsoft wanted to get into the tablet computer game with Windows 8. While Windows 8 was terrible on the desktop since it shoved a tablet optimized interface to a desktop operating system, it's so so-so on the Surface. While I installed Start 8 and other utilities from Stardock's Object Desktop suite to enhance the Microsoft Surface experience, it was a mixed experience. Let's focus on the positives first. 
Since it runs full Windows 8 (and now Windows 10), you can basically run any desktop applications. Yes, you can run any PC games (at low settings) and visual novels on it too. I used the Surface Pro mostly for OneNote (a note taking program), Photoshop and sometimes type up a Word document. I opted out buying one of those Type Covers that adds a physical keyboard and touchpad to the Surface Pro since it was not replacing my MacBook Pro, which I do mostly everything on. 
The touch keyboard in my opinion is not as good as the one on the iPad. Since the Surface Pro uses a 16:9 aspect ratio, the keyboard appears stretched out. Also, when you type on a text field, the keyboard doesn't show up. If you want to input something, you need to bring up the touch keyboard and close it when you are finished. It's such a pain in the neck and you have to train yourself to bring up the keyboard if you want to input something. On the other hand, the pen input is good and very useful for writing and doing stuff in Photoshop. Even if you lose the Surface Pen, you can easily replace it with any pen that works with Wacom pen enabled tablets.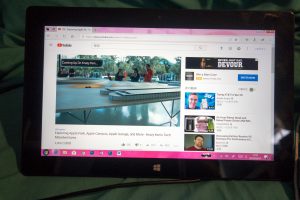 Now, here comes the bad. After four years of use, the screen started developing a yellow tint. As expected, the Surface Pro had a lot of reliability problems and the tablet itself is not repairable at all. This excludes the fact it runs Windows. In other words, it brings the baggage full of issues such as malware, Windows Update forcing updates, etc. Luckily, besides the yellow tint issue, I haven't had any hardware issues. Still, even with the carbon skin, the metallic finish took a beating with chipped paint, which makes it look ugly. It looks worse than a well used MacBook Pro.
Another issue is the Surface Pro's usability. The Surface Pro weighs around at two pounds. It's heavier than any iPad, even with the new Pro models with the Smart Keyboard. Furthermore, the battery doesn't last long. While the battery life is better than the original, it can only last 5 to 6 hours every use. You can extend the battery by using a Power Cover. Of course, this costs extra and it will add more weight. Regardless, using the Surface Pro on a lap isn't a good experience with the kickstand up, It simply doesn't have enough support. Since the tablet is top heavy, it may fall onto your laptop.
After several years of use, I kind of regret getting a Surface Pro. While it looks like a good idea for a power user like me. However, it's compromises and for the fact it runs Windows makes it a mixed bag. It's not a good laptop or a tablet. Add for the fact that the amount of tablet optimized apps is barren makes it a terrible choice. This means no Gacha games. In other words, you can't play Fate Grand Order, Love Live School Idol Festival and the such. Also, if you opt for a smaller storage, you will only have around 30 GB or less of free space. However, you can add a Micro SD or attach a USB 3 hard drive for extra storage.
Not only that, playing YouTube videos without a touch pad sucks. It's hard to control the controls since they are made for a mouse and keyboard. On the iPad, this is never a problem, even when playing videos in the Safari browser. As you would expect, the touch experience with full desktop apps is clunky since there are small UI elements that are hard to touch. In other words, you will reach for the mouse or pen to interface with them.
In short, the Surface experience is a relatively negative one. While it's nice to use full desktop apps, the ecosystem of tablet and touch optimized apps for Windows is terrible. It's not surprising since most people use Windows as a desktop operating system. Moreover, Universal Windows Apps, which are touch optimized never caught on, thus the number of tablet optimized apps remain barren. It's not too surprising since Microsoft failed to embrace mobile as Google and Apple shut them out with Android and iOS.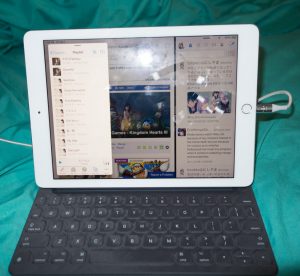 In short, I ended up buying a used iPad Pro to replace most, if not all the duties of the Surface Pro 2, I went with a used iPad Pro 9.7 128 GB with LTE since it has similar power to the 2018 iPad. Pairing that up with a lightly used Smart Keyboard, the whole thing cost $383, which is a lot less than what a brand new iPad 2018 128 GB with LTE will normally cost. Sure, the battery is worn out slightly, it still provides 8+ hours of runtime and it still runs fast.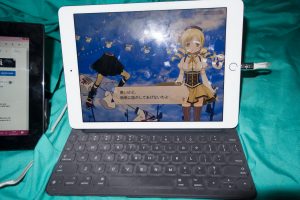 Since the last time I used an iPad in 2013, the experience became better after 7 iOS updates. Now, there is better multitasking support with split view, picture in picture, and slide over view. Also, there are more apps that can take advantage of the hardware better. Not to mention, since iPad can run any iPhone app, I still have access to all the Japanese dictionary apps and games. Also, the Smart Keyboard provides a good typing experience, maybe better than the butterfly keyboards on the new MacBook Pros.
In short, if you thinking about getting a Surface Pro or any Surface product, I would avoid it. Unless you are an artist and need access to specialized apps such as Adobe suite, Paint SAI, Corel suite and the like, I would personally avoid it. I think a traditional desktop or laptop and a separate tablet will provide a better experience than any two in one laptop. While they are the jack of all trades, they are master of none. Likewise, an iPad is not going to replace a laptop for everyone. If you do nothing but surf the internet, type an occasional document, and check email, it can for those people.