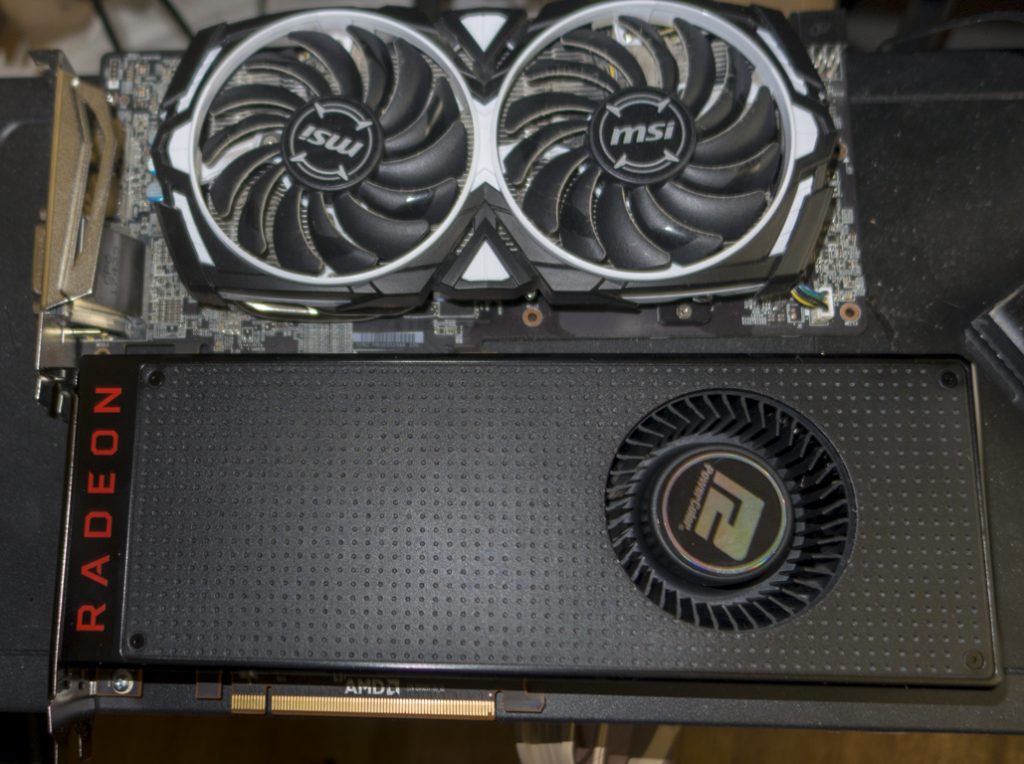 It's official. I have went over to the red team for video cards. It doesn't come at a surprise given Nvidia's anti-competitive behavior with the whole Geforce Partner Program fiasco, which they ended up killing after massive opposition. Aside from dealing with terrible Nvidia Web Drivers on macOS High Sierra and overall glitches with my eGPU with a Geforce GTX 980 Ti, it was the last straw. I eventually sold my EVGA Geforce GTX 1070 Hybrid  and got back 86% (excluding shipping costs) I originally paid for it back in early June.
Given that Apple have a strong bias for AMD Radeon graphics cards since they don't seem to like Nvidia either, I had to go to the Red team. However, it's going to be expensive because of those stupid Cryptominers buying up all the AMD Radeon GPUs to mine fake digital currency that probably doesn't worth anything. Thankfully, I managed to get these two cards pictured above close or below MSRP thanks to Crypto crashing. They are:
MSI Amor Radeon RX 580 8GB – Bought this in mid April 2018 for $280, which this particular model originally retailed for $240. It's an impulse buy since I didn't want to deal with the Nvidia Web Driver issues anymore. It was apparently used for mining for Ethereum for at least 3 months, before the person realized they will never make the money back. It's his loss. I simply re-flashed the original BIOS and it worked nicely on macOS and plays all the games I usually play well. There is one problem. Trying to use any application that uses Apple H264 encoder like Final Cut Pro X would lock up the machine since it relies on the iGPU, which the Intel X99 platform doesn't have. Since the hardware encoder on the RX 580 isn't compatible, it just causes issues for those programs. So, it's back to the drawing board.
PowerColor AMD Radeon RX Vega 56 – It's a known fact that Vega cards are a laughing-stock of the gaming community due to its disappointing performance to watt compared to Nvidia's offerings. The RX Vega 56 almost takes as much energy as a Nvidia Maxwell Geforce card only producing slightly above GTX 1070 performance. However, those darn miners bought up all the cards, making them insanely expensive (over $700) when it supposed to retail for $399 (currently, it goes for $500). Thankfully, I got mine for $385 and it was only used for mining for only a few weeks apparently. Given how clean the card is and that the BIOS is not modified, it's believable.
So how is it like to go to the Red Team? The Vega 56 works flawlessly on my computer as H264 hardware accelerated encoding and decoding works flawlessly. Video exports a lot quicker on the Vega 56 opposed to the RX 580. As for gaming performance, it pretty much matches the GTX 1070 or slightly better. I haven't fully benchmarked the card in 3DMark, but it's definitely fast. However, I notice the card's fans runs a bit louder, thanks to the reference cooler.
As for the RX 580, I only needed to upgrade to the latest macOS and run the script to make it work with Thunderbolt 1. For the most part, it works better than the 980 Ti as the computer no longer freezes up after several hours along with other glitches. This should be enough to keep my non-retina MacBook Pro 2012 15 inch running a bit longer until I can afford a new MacBook Pro.
In short, is it worth it to ditch Nvidia? Definitely given how nasty Nvidia's business practices have been lately. Hopefully AMD will build a more competitive card with Navi that can actually compete so Nvidia can't abuse their large market share.