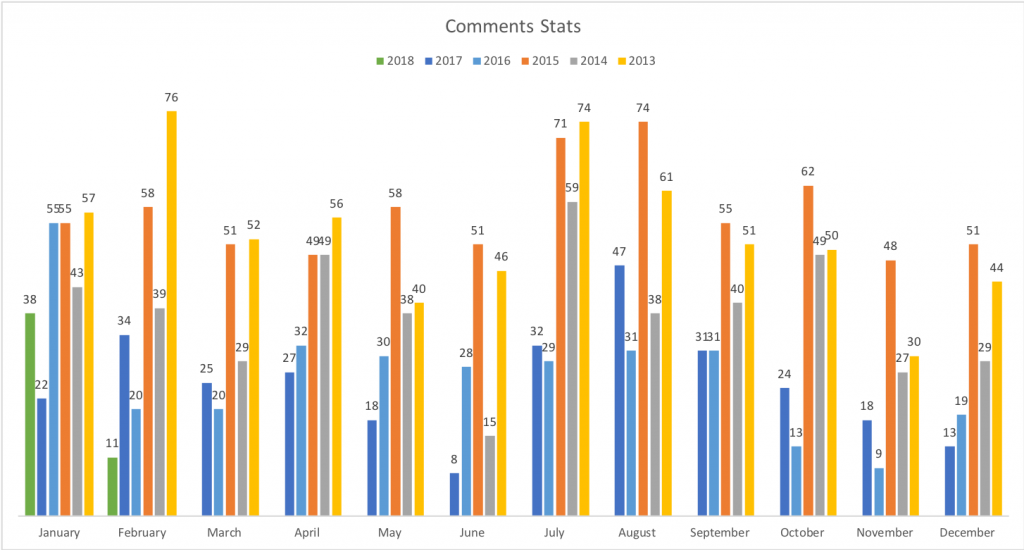 Since 2016, I have been struggling in getting more comments on my main blog at chikorita157.com. My main blog focuses primarily on Anime. Sure, I overreacted in April 2013 when I complained about the lack of comments. I basically cried wolf since 2013 is a very good year for comments with 637 made in total. The problem didn't become worse until 2016 . Last year, only 299 comments were made, which made me become very frustrated. After all, discussion is what makes a blog a blog. Not only that, allows me to potentially come up with new ideas for posts. This is probably one of the reasons I didn't write many editorials last year.
After 2015, things took a turn for the worse. It's understandable that anime blogging is not what it used to be as many of the blogs. Looking through my blog roll, most of the blogs are in fact inactive or no longer exist. Given that this month have been a terrible month with only 11 comments, one of the lowest amount of comments per month aside from June 2017, which only have 8, it upsets me. Seeing the lack of comments in my stats is very demoralizing, especially when I compare myself with other blogs who receive more comments per post. This also doesn't help with my real life issues that I am still dealing with aside from the lack of social interaction over the past year and a half.  This gives me a sense of feeling that nobody is really reading my content and that I am wasting my time. Believe me, I enjoy sharing my thoughts about anime, but not when there is no comments or discussion.
Something needs to be done to prevent myself from experiencing burnout eventually if this trend doesn't change. I want to discourage likes and encourage more commenting. Of course, that won't work since you can't disable likes on the WordPress.com reader. Subscribers can still leave likes even if likes are disabled in Jetpack. Even commenting on other posts on other blogs, nowadays, not many leave comments back as they used to. I am left with just being lucky just to receive a few comments per months. This is not helpful with my well-being since it gets somewhat lonely besides talking with my family.
You can help resolve my frustrations at least commenting on some of my posts that you find interesting. The current goal is to have at least 25-30 comments per month (including replies I will make on the blog). If you have a blog, I may comment back, if I can leave a constructive one and not for the sake of doing it.
In short, I do not enjoy complaining about this issue. I hope things will get better from here.