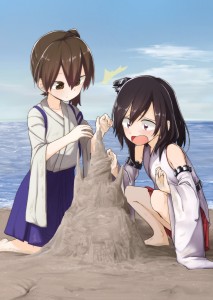 You might be wondering, why would put an SSD in a 13-year-old PowerBook G4 Titanium? I happen to found one in good condition aside from a few chips from normal use with a reasonably strong hinge (hinge problem is common on the earlier models). Not only that, there is not that much wear on the track pad and the keyboard and palm rest almost look like new and for 66 dollars, I couldn't pass it up since one in good condition goes for $100-130 with a power adapter.
The problem is that the hard drive that came with it is slow and small. Because PATA hard drives are getting rare and the whole "put an SSD in everything" thing is very popular, why not install one? Sadly, there are not that many choices since most solid-state drives are SATA, not IDE. Therefore, you are left with a few manufacturers such as Transcend, OWC (which is too pricy, but probably work better with a Mac) and Kingspec (which I don't trust). Sure, you can use compact flash card too, but they aren't really designed for a boot drive and they can get expensive. However, mSATA SSDs have gone down in price while providing the fast speeds from regular SSDs, thus making them a viable choice.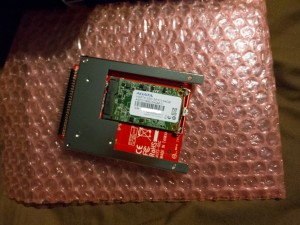 I decided to get an Aleratec mSATA to PATA converter with a bracket, which cost $29.99 from Amazon. It's a bit pricy, but it has better company with older systems. Also, I used an A-DATA Premier Pro SP310 64 MB SSD to put into the converter, which cost $42 including tax, costing in total $72. Installation was easy. You simply take the screws from the bottom panel of the Powerbook G4, remove two T8 screws that is holding the drive in the battery compartment side, disconnect the HD ribbon cable, remove the bracket near the optical drive and then remove the rubber and screws from the old drive. As for the mSATA installation, you simply put it in the mSATA socket and clamp it down. Afterwards, you transfer the ribbon cable from the old to the SSD converter and do the steps in reverse. In total, it took about 30-40 minutes to complete.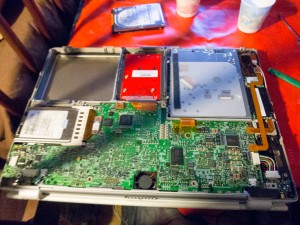 Overall, the SSD worked in the Powerbook and it takes 40 secs to boot (chime to desktop) into Mac OS X Leopard and 1 minute for Mac OS 9. On XBench, it scored a 128.21 for the disk test. Note that there is no TRIM support, meaning that you need to rely on the SSD's garbage collection and wear leveling.
However, there are some caveats to take note. Depending on the SSD, your computer might not be able to recover from sleep. I tried to change the sleep mode, but it didn't work with my SSD. Only Mac OS 9 could recover from sleep. Because of this, you should probably use a more expensive mSATA SSD from Samsung, Crucial or SanDisk as they might have better compatibility with older systems, unless you are using it for light computing tasks or just to mess around with, Also, the VGA models of the Powerbook G4 has a 128 GB limit, so you are limited to SSDs 128 GBs or less in capacity. Lastly, all PowerPC laptops (besides the really old ones) are limited to 66 mbps to 100 mbps speeds. Still, it's faster than a typical 4800/5200-RPM hard drive.
Still, even if you get a Samsung EVO 850 120 GB and the bracket, it's cheaper and more reliable than the IDE SSDs.
In short, mSATA SSDs with a converter will definitely breathe new life in your vintage PowerPC Macintoshes or old PCs and is something to think about instead of throwing the laptop into a landfill.
Benchmark Results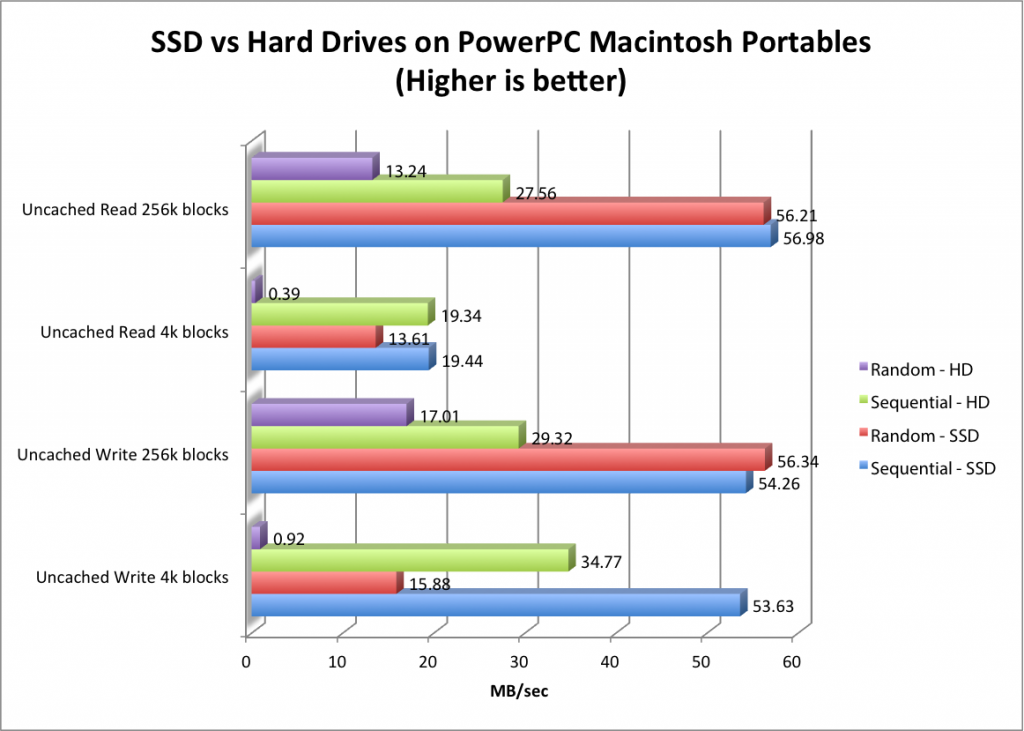 Specs:
Hard Drive only: iBook G3 (PowerPC G3 600 MHz, ATI Mobility Radeon,  80 GB Hitachi 5200 RPM Hard Drive, 384 MB RAM, Mac OS X Tiger 10.4.11)
SSD: Powerbook G4 Titanium DVI (PowerPC G4 664 MHz, ATI Mobility Radeon 7500, 64 GB A-DATA SP310 SSD, 512 MB RAM, Mac OS X Leopard 10.5.8)
Update
I gotten a hand on a Kingston SM200 SSD Now 60 GB mSATA card and restored the image and it seems that the JMicron SSD controller used in cheaper SSDs are not compatible with these old Macs as they break sleep. The Kingston has a Sandforce controller and sleep now work.
While the results in XBench is a bit slower with the Kingston SSD due to encryption and better wear leveling, the difference is not too noticeable. Also, there is a loss of 4 GB of capacity due to over provision, which can be a better choice for computers running older operating systems without TRIM support.
A Kingston SM200 mSATA SSD can be bought for $51 on Amazon. Add the controller board, it will come to be about $83, cheaper than the OWC IDE SSD that retail for 99 dollars.
Note that you should not use this method for any of the iBooks, especially the G3 Snow iBooks as it will cause the SSD to overheat and make the fans go at max speed. Also, iBook G3s only have a Ultra-ATA/33, meaning that the speed difference compared to a 5400 RPM HD will be negligible.
Gallery