Just last week, the Playstation Vita Slim has finally landed last week as a bundle. While my sister hasn't preordered it, she managed to find one because she wanted to play some Japanese RPGs (she wanted to play Danganronpa 1 and 2, Persona 4 Golden and plan on getting Hearts R in English later). Since I own a Vita already, I may as well compare it to my old version.
Note that this is not a full impression post since I already shared my thoughts about the Vita previously.

Announced in the fall of 2013 at the Tokyo Game Show is the slim version of the Vita. While the Slim Vita pretty much as the same hardware as the old one, it removes the unused expansion port and adds 1 GB of onboard storage and bigger grips. Also, it uses micro USB to charge/sync instead of a proprietary cord, which is a good thing as you don't have to use the official one like the old one.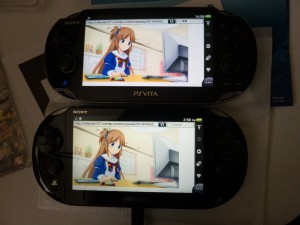 Since Sony wanted to make the system cheaper and slimmer while providing more battery life compared to the old one, they ditched the OLED screen for a TN LCD screen (not an IPS screen seen on smartphones) while maintaining the same resolution. From a glance, it looks decent. However, when I compared it with my old and fatter Vita with the same image loaded, it's apparent that the color on the new one looks washed out. Since OLED uses more energy compared to LCD, the new model will have better battery life depending on the settings and the games you play. The estimated gameplay time is 6 hours or more, about an hour more than the old model with low brightness.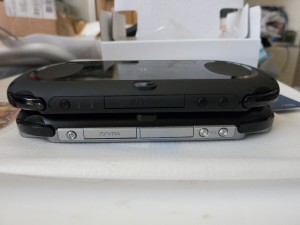 On the other hand, while the new Vita feels cheap, it's more comfortable compared to the older version mostly because it has bigger grips and it's lighter. Not only that, the start and select buttons is a lot more accessible compared to the old one, which were small and somewhat difficult to press.
As a whole, despite the downgrade of screen quality, the Vita Slim is still a very good system. Unless you want the color options that are Japan only, I suggest picking up the Borderlands 2 Bundle, which comes with a 8 GB Vita Memory Card. While 8 GB may not be much and probably most Japanese RPG fans won't be interested in shooting games like Borderlands, at least this bundle will give you enough space to store all the game patches and save games if you plan on buying only physical copies of games. If you are planning to go digital only/Playstation Plus and don't care about Borderlands 2, you may as well spend a little more and import one with better color options and a 64 GB Vita Card (which is expensive and only sold in Japan).