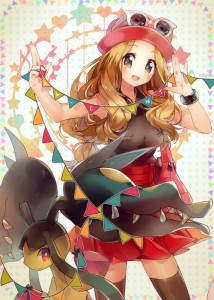 Instead of doing individual posts I have done in the past, I will do a live blog. With this, I will show my current progress. First impressions posts will come later on the main blog. For now, please do not refresh this page. It will load updates automatically.
Trainer name is: いずみこ (Izumiko)
Update: Live Blog has been updated to scroll older updates so this page wouldn't become too huge to handle.
My 3DS Friend Code is 2406-5224-9182. I will only accept people that I know and I won't be accepting any battles until I have a team ready.
Update 2: I didn't realize until today that I mistyped the last number of my 3DS friend code. This is now fixed.
Update 3: With two badges remaining, the adventure is starting to come to a close. Once the Elite Four is defeated, this live blog will be archived and I will start writing a review for Pokemon X and Y.