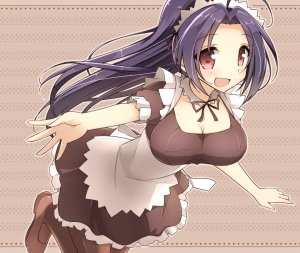 In a post written by Akira about his interesting take on older girls, I kind of feel the same way. Although I prefer girls around my age, older ones tend to be more mature or sweet personalities. Also in some cases, people may look up to them as their role model. Azusa from The Idolmaster (pictured above) is probably a good example as she has a sweet personality and really good looks. Also, she's voiced by Chiaki Takanashi, whom had other older sister type characters. For this reason, many of her fellow idols, especially Chihaya looks up to her. Takane also gets the same treatment, although she is a few years younger than Azusa.
Another good example is Sanae Furukawa in Clannad. Although she is a mom in her 30s or 40s, most view her as Nagisa's older sister. She has a mature personality and knows how to cook anything except bread.
I think the main reason most anime focus on younger girls because the moe factor. Still, we shouldn't overlook their uniqueness.
Update (June 2, 2012, 9:22 PM EDT): Apparently received a not so received response regarding my tastes for older anime girls is meh… Well don't look at me, I only watched about 80 titles to date… but there are probably others I possibly overlooked. But then again, there isn't a wrong or right answer.
Update #2 (9:29 PM EDT): Damn, how did I forget about Kotori… maybe because she doesn't get a full on screen appearance in the game like the other characters. Even so, it's sad we don't know much about her, except being the secretary. I would like to see a bit more of her.
Update #3 (9:33 PM, 10:34PM): Come to think of it, Ohana's grandmother, Sui from Hanasaku Iroha would probably fit the description better. Yeah she is 68 years old, but definitely mature and authoritative (you can probably see this with the slapping and strictness). Ritsuko also works as well since she is 19, pretty strict and likes being a producer more than an idol.
But excuse my accused trollage… it's unintentional.
---
Thoughts on Comments: Of course what Akira did is somewhat similar to what Author from "Ani-nouto" as he does not allow comments on blogs. Since most people use social networks or Tumblr, these mediums can give a more interactive experience as the comments come directly from the person. However, keeping interactions to these mediums could alienate a few who don't want to use these, but still want to comment (most namely people who want to remain anonymous or don't want to make an account). It's a double-edged sword, which is why I keep comments on… But hey, do what works best.